Celebrating Black Women in the Arts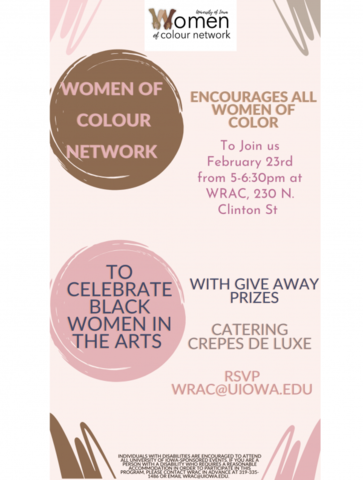 Join us to explore how Black women have used the creative arts to dismantle racism, sexism, and various forms of oppression and how all women can collaborate, support, and develop a more empowered narrative of Black women for the future. We will be fostering a safe environment to invite and provoke stimulating and critical conversations about the intersectionality of being a woman of color in the form of a mixer where food and fun will be provided.
Simone Garza (She/Her), a senior majoring in Journalism at the University of Iowa will be preforming her poem, "Unapologetically Human." Arianna Aron (She/Her) is a Youth & Family Support Coordinator & DEI Coordinator at UAY (United Action for Youth), a 200 RYT, and level II Reiki practitioner. Currently in school to obtain a BA. in Ayurveda Wellness & Integrative Health with a specialization in Ayurveda Wellness & Yoga. She will be guiding a breath and balance session, restorative yoga poses, and more. Hope to see you all there!