Past Events: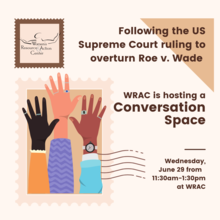 WRAC Conversation Space following US Supreme Court Ruling to Overturn Roe v. Wade
Wednesday, June 29 at WRAC: Conversation Space
This drop-in space is designed and intended to offer safe and supportive space for members of the campus community to engage in conversation and sharing of ideas on moving forward, in light of the SCOTUS ruling announced last week. The space is being made available to share thoughts, feelings, and ideas and to find and build a sense of community*.
NOTE: In this space, there is an expectation of confidentiality and respect for all those who enter. By accessing this space, you are agreeing to uphold these expectations. If these expectations are not upheld, you will be asked to leave.
Light refreshments will be available. Participants are welcome to bring their lunch if they choose to do so, as well. Because this is a drop-in opportunity, participants are free to come and go as their schedules allow.
The physical space for this event is mobility-accessible. People of any gender are welcome.
---
WRAC

: Iowa City Donation Drive

Wednesday, May 11 at WRAC: Iowa City Donation Drive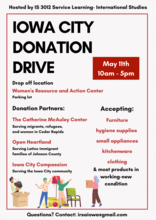 Are you getting ready to move out and want to get rid of stuff you don't use? IS:3012 (Community Engaged Learning with Refugees and Immigrants in Iowa) is partnering with many local community nonprofits to host a donation drive to aid resettled refugees in Iowa! The drive will be held on Wednesday, May 11th from 10:00am - 5:00 pm at the Women's Resource and Action Center.
We are partnering with:
The Catherine McAuley Center, which serves migrants, refugees, and women in the Cedar Rapids area
Open Heartland, serving Latino immigrants in Johnson County
Iowa City Compassion, serving the Iowa City area
We request that all items be new, gently used or in working condition. Items these organizations are requesting include:
Hygiene supplies
Furniture
Unused office supplies
Small appliances
Kitchenware
Clothing
Cleaning supplies
Pots & pans
Unopened, non-expired food items
Have something you want to donate that isn't on the list? We will accept most items in working condition.
We hope to see you! If you have any questions, feel free to reach out to irsaiowa@gmail.com.
---
In Recognition of Sexual Assault Activism Month
Wednesday, April 27 at Big Grove Brewery: Boundaries N' Brews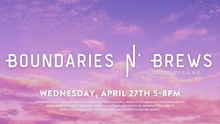 Come join us at Big Grove Brewery on Wednesday, April 27th from 5-8pm for an event recognizing Sexual Assault Activism Month. This event will bring together community organizations who work with survivors and advocate to prevent sexual violence. There will be live music, yard games, raffle prizes, and the opportunity to learn more about the local organizations providing these services.
The following organizations will be participating:
Johnson County Sexual Assault Response Team (JCSART)
Women's Resource & Action Center (WRAC)
Rape Victim Advocacy Progam (RVAP)
NISAA African Family Services
Emma Goldman Clinic
Monsoon
---
In Recognition of Sexual Assault Activism Month
Tuesday, April 26 on the Pentacrest: Take Back the Night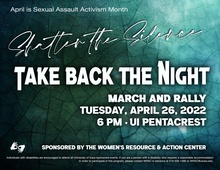 We are beyond excited to be having Take Back the Night in person again this year!
Take Back the Night is a nationwide movement to stand against sexual violence. Everyone who is committed to this is welcome at the event. At the University of Iowa, our Take Back the Night will consist of two parts.
The first is a march through downtown Iowa City to raise awareness of issues around sexual assault. The march will start and end at the Pentacrest on Tuesday, April 26 at 6pm.
After the march is a survivor speak out. Any survivor who would like to do so is invited to share their experience and perspective with the audience at the event. The audience is asked to listen supportively, knowing that these experiences can be challenging to share and to hear. Survivors share from many different places in their healing journey and express emotions in line with that.
Advocates will be at the event in Shaeffer Hall to support anyone who needs a break from the content. Everyone is welcome to come or leave at any time and we encourage everyone to check in about their own limits with this content. We hope that you come to share survivor stories and to support survivors if you are able.
---
Wednesday, April 20 at WRAC

: WOCN Presents: Self Love Mixer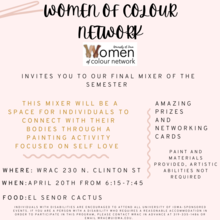 We've had such a great time thus far and we are going to end it with our final Women of Colour Network Event of the semester. This mixer will be a space for individuals to connect with their bodies through a painting activity focused on self love.
⚡️where: WRAC 230 N. Clinton st
⚡️when: April 20th 6:15-7:45pm
⚡️food: El Señor Cactus
Amazing prizes and networking cards. Paint and materials will be provided. Artistic abilities not required.
---
Sunday April 10 - Friday April 13

: Period Product Drive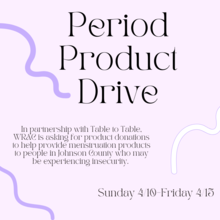 For those who are able, in partnership with Table to Table, WRAC is asking for menstrual product donations in order to help disburse them to people in need in Johnson County. There are multiple locations where we will be accepting donations throughout next week (April 10 - April 15).
Sunday 4/10: Hy-Vee (Dodge Street) from 12-4pm
Monday 4/11: The Pentacrest from 12-2pm
Tuesday 4/12: Hillcrest Residence Hall from 12-4pm
Thursday 4/14: Burge Residence Hall from 12-4pm
Friday 4/15: Pentacrest from 12-2pm
You are also welcome to bring any donations directly to WRAC at 230 N. Clinton St.
Thank you you to everyone helping us aid people experiencing period poverty!
---
Friday, April 1 at Molly's Cupcakes

: Fundraiser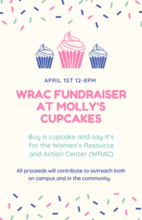 Need an excuse to get a cupcake? Well you've found it! Stop by Molly's Cupcakes any time from 12-8pm this Friday, April 1st to help raise funds for WRAC! Let Molly's know you are supporting WRAC when you buy your cupcake and the proceeds will help fund our outreach initiatives.
---
In Celebration of Women's History Month
Wednesday, March 30 at WRAC: WOCN Presents: Trivia Night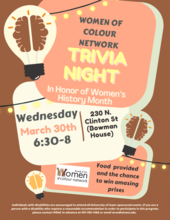 We cannot wait to see all of the beautiful women of colour again (and hopefully some new faces too) this Wednesday, March 30th from 6:30-8pm. In honor of Women's History Month, we will be hosting a Trivia night full of questions highlighting influential women of coulour. Bring your devices and get ready to play! Top 3 winners will win big prizes! Come eat, come learn, and let's honor all of the wonderful women of colour.
---
In Celebration of Women's History Month
Friday, March 25 at WRAC: PJ Party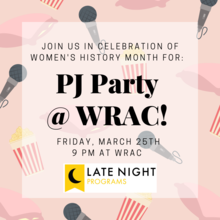 Join us in celebration of Women's History Month for a PJ party at WRAC. The event will take place this Friday, March 25 at 9pm at WRAC.

The night will include karaoke, a free meal (with vegetarian and vegan options), popcorn, and we will end the night with a showing of Iron Jawed Angels.

There will also be AMAZING PRIZE GIVEAWAYS which we will be revealing each day on our instagram story! We hope to see you there!
---
In Celebration of Black History Month
Wednesday, February 23 at WRAC: WOCN Presents: A Celebration of Black Women in the Arts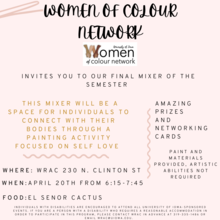 Join us to explore how Black women have used the creative arts to dismantle racism, sexism, and various forms of oppression and how all women can collaborate, support, and develop a more empowered narrative of Black women for the future. We will be fostering a safe environment to invite and provoke stimulating and critical conversations about the intersectionality of being a woman of color in the form of a mixer where food and fun will be provided.
Simone Garza (She/Her), a senior majoring in Journalism at the University of Iowa will be preforming her poem, "Unapologetically Human." Arianna Aron (She/Her) is a Youth & Family Support Coordinator & DEI Coordinator at UAY (United Action for Youth), a 200 RYT, and level II Reiki practitioner. Currently in school to obtain a BA. in Ayurveda Wellness & Integrative Health with a specialization in Ayurveda Wellness & Yoga. She will be guiding a breath and balance session, restorative yoga poses, and more. Hope to see you all there!
---
In Celebration of Black History Month
Tuesday, February 15 at WRAC: Movie Night - Hidden Figures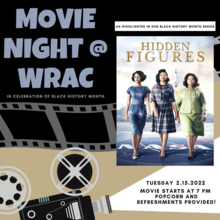 Hidden Figures, featuring Taraji P. Henson, Octavia Spencer and Janelle Monae, is based on the astonishing people who, among hundreds of other brilliant women, calculated the trajectories for astronauts during the space race. Mary Jackson, Katherine Johnson, and Dorothy Vaughan are the three featured impactful African American female mathematicians who helped change the way humans space travel.
WRAC will be hosting a screening of Hidden Figures in celebration of Black History Month. Join us on Tuesday, February 15 at 7:00pm!