Women's History Month 2021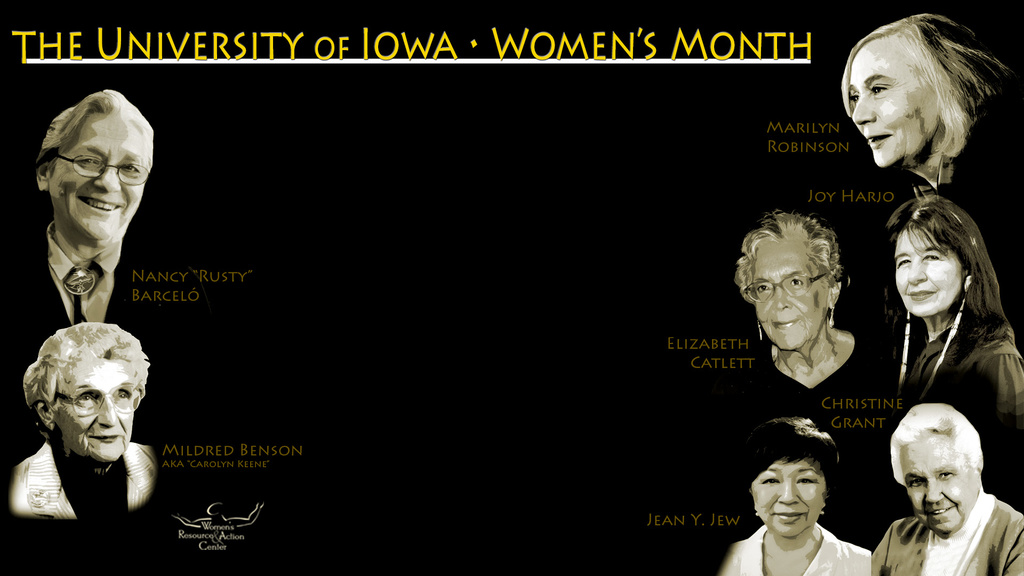 March is Women's History Month, an annual declared month that highlights the contributions of women to events in history and contemporary society.
Women's History Month had its origins as a national celebration in 1981 when Congress passed Pub. L. 97-28 which authorized and requested the President to proclaim the week beginning March 7, 1982 as "Women's History Week." Throughout the next five years, Congress continued to pass joint resolutions designating a week in March as "Women's History Week." In 1987 after being petitioned by the National Women's History Project, Congress passed Pub. L. 100-9 which designated the month of March 1987 as "Women's History Month." Between 1988 and 1994, Congress passed additional resolutions requesting and authorizing the President to proclaim March of each year as Women's History Month. Since 1995, presidents have issued a series of annual proclamations designating the month of March as "Women's History Month." These proclamations celebrate the contributions women have made to the United States and recognize the specific achievements women have made over the course of American history in a variety of fields.
At WRAC, we want to utilize this month to celebrate women throughout history and today!
If you'd like to download our Women's History Month Zoom Background to commemorate the month, click here:
Women's History Month Zoom Background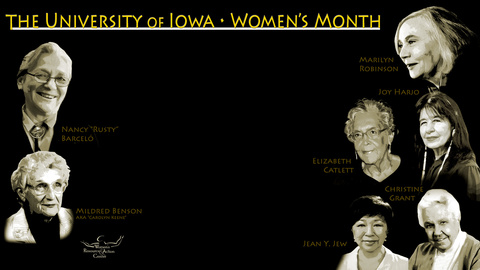 For 2021 Women's Month, the Women's Resource and Action Center is honoring a small group of notable women who have been associated with The University of Iowa. They represent a much larger community of remarkable women who have made history and continue to make history every day at this university.
Mildred Benson, AKA "Carolyn Keene": Author of the Nancy Drew Mysteries Series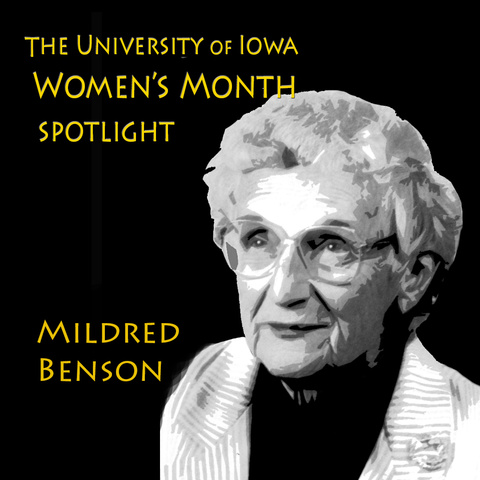 Mildred Augustine Wirt Benson was an American journalist and author of children's books. She wrote some of the earliest Nancy Drew mysteries and created the detective's adventurous personality. Benson wrote under the Stratemeyer Syndicate pen name Carolyn Keene from 1929 to 1947 and contributed to 23 of the first 30 Nancy Drew mysteries, which were bestsellers.
Born in Ladora, Iowa in 1905, Benson attended the State University of Iowa, now known as the The University of Iowa, and graduated after just three years in 1925, during which she was a champion athlete in basketball, swimming, and diving and wrote for the Daily Iowan. After two years as a reporter she returned to the university and earned its first masters in journalism. She married, became a mother, and eventually returned to journalism during WWII. During that time she also became a ghost writer for several mystery series, including Nancy Drew, a secret identity not revealed until 1980, during a lawsuit when someone else tried to claim her work. She also earned her commercial pilot's license in 1959, writing a regular column about her adventures, and applied to be a NASA "Journalist in Space," though that opportunity ended with the program after the Challenger explosion in 1986.
Nancy "Rusty" Barceló: First Chicana PhD from The University of Iowa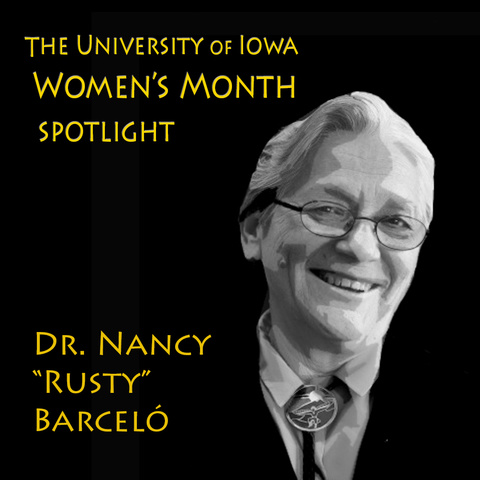 Nancy "Rusty" Barceló, 72MA, 80PhD, is a pioneer for multiculturalism who has literally changed the face of higher education in America, earning her MA in 1972 and became the first Chicano to earn a PhD from Iowa in 1980. Throughout an illustrious career in academic administration that spans four decades, including 20 trailblazing years at the University of Iowa, Barceló has championed the idea that equity and diversity are fundamental to the academic enterprise—and that promoting this belief is not just the responsibility of one administrator, program, or office, but of an entire university.
When Barceló arrived at the University of Iowa in 1970, she was the only Chicana graduate student on campus. She soon became involved in opening the UI's first Chicano Latino Native American Cultural Center. Her passionate and impeccable performance in a variety of roles and research assistantships in the UI offices of Affirmative Action, Academic Affairs, and Special Support Service caught the attention of central administration.
The year after earning her Ph.D., she accepted her first full-time UI position as assistant dean in the Office of Academic Affairs. She determined to use this platform as a vehicle toward strengthening the university's embrace of equality and diversity principles. She went on to further climb the leadership ranks, filling roles as the interim director for the Opportunity at Iowa program and as assistant provost. Even when she finished her "official" work in Jessup Hall, Barceló often devoted evenings or weekends to the cause so close to her heart, speaking at events, singing at rallies, or hosting activities for first-generation college students.
Barceló's more recent professional contributions have taken place outside Iowa. From 1996 to 2001, she served as associate vice president for multicultural and academic affairs at the University of Minnesota. She then accepted the position of vice president and vice provost for minority affairs and diversity at the University of Washington. In 2006, Minnesota managed to recruit her back to its campus, where she serves as vice president and vice provost for equity and diversity. She was appointed president of Northern New Mexico in 2010, retiring from that position in 2016 to offer her services to a series of universities across the country, including currently returning to The University of Iowa in that capacity.
Respected on a national level for her leadership, courage, and collaborative approach, Barceló has improved diversity at all levels in the institutions where she's worked, instilling a greater understanding of its value amongst faculty, staff, and students. Her efforts have resulted in the acceptance of diversity as a core university value, greater recruitment of multicultural populations, and improved retention and support of underrepresented groups.
In addition to her academic endeavors, Barceló has participated on numerous regional and national boards, spoken at hundreds of conferences and cultural events, and received awards from more than 20 organizations. Her latest honor, the Ohtli Award from the Mexican government, recognizes her work to enhance U.S.-Mexican relations and improve the lives of people of Mexican heritage living in this country.
With warmth, compassion, and humanity, Rusty Barceló has cultivated educational atmospheres that value and affirm difference, benefiting countless individuals as well as the teaching, research, and service missions of universities.
Marilyn Robinson: Pulitzer Prize Winning Author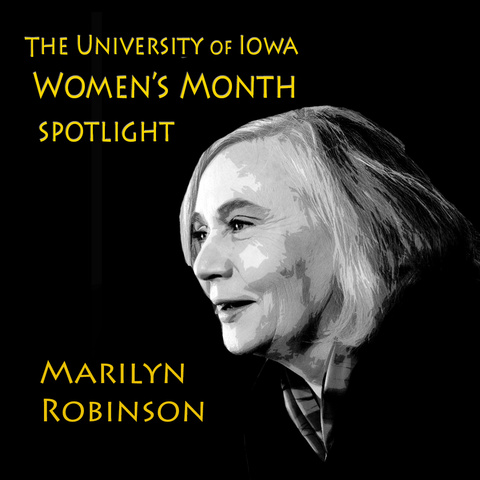 Born in Sandpoint, Idaho in 1943, Marilyn Robinson is an American novelist and essayist who joined the University of Iowa as faculty in the MFA program in 1989 and Writers Workshop faculty in 1991, retiring as the F. Wendell Miller Professor to become faculty emeritus in 2016. Across her writing career, Robinson has received numerous awards, including the Pulitzer Prize for Fiction in 2005, National Humanities Medal in 2012, and the 2016 Library of Congress Prize for American Fiction. In 2016, Robinson was named in Time magazine's list of 100 most influential people.
Robinson is best known for her novels Housekeeping (1980) and Gilead (2004). Her novels are noted for their thematic depiction of both rural life and faith. The subjects of her essays have spanned numerous topics, including the relationship between religion and science, US history, nuclear pollution, John Calvin, and contemporary American politics. Her latest book, Jack, is the fourth in a series that began with Gilead.
Joy Harjo: US Poet Laureate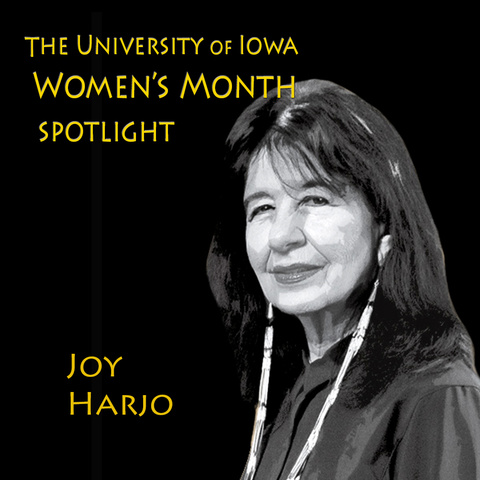 Joy Harjo is an internationally renowned performer and writer of the Muscogee (Creek) Nation. She is serving her second term as the 23rd Poet Laureate of the United States. She was born in Tulsa, Oklahoma, and is a member of the Muscogee (Creek) Nation. She earned her BA from the University of New Mexico and MFA from the Iowa Writers' Workshop.
The author of nine books of poetry, including the highly acclaimed An American Sunrise, several plays and children's books, and two memoirs, Crazy Brave and Poet Warrior: A Call for Love and Justice, her many honors include the Ruth Lily Prize for Lifetime Achievement from the Poetry Foundation, the Academy of American Poets Wallace Stevens Award, two NEA fellowships, and a Guggenheim Fellowship. As a musician and performer, Harjo has produced six award-winning music albums including her newest, I Pray for My Enemies (Sunyata Records). She is Exec­u­tive Edi­tor of the anthol­o­gy When the Light of the World was Sub­dued, Our Songs Came Through — A Nor­ton Anthol­o­gy of Native Nations Poet­ry and the editor of Living Nations, Living Words: An Anthology of First Peoples Poetry, the companion anthology to her signature Poet Laureate project. She is a chancellor of the Academy of American Poets, Board of Directors Chair of the Native Arts & Cultures Foundation and holds a Tulsa Artist Fellowship. She lives in Tulsa, Oklahoma.
Elizabeth Catlett: Activist Artist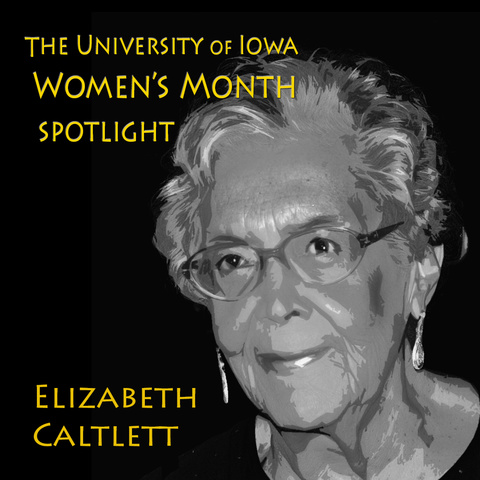 Born in 1915, Elizabeth Catlett became the first person to earn an MFA in sculpture at The University of Iowa. The granddaughter of former slaves, Catlett was raised in Washington, D.C. Her father died before she was born and her mother held several jobs to raise three children. Refused admission to Carnegie Institute of Technology because of her race, Catlett enrolled at Howard University, where her teachers included artist Lois Mailou Jones and philosopher Alain Locke. She graduated with honors in 1935 and earned her MFA at Iowa five years later. Grant Wood, her painting teacher at Iowa, encouraged students to make art about what they knew best and to experiment with different mediums, inspiring Catlett to create lithographs, linoleum cuts, and sculpture in wood, stone, clay, and bronze. She drew subjects from African American and later Mexican life. A grant from the Rosenwald Foundation enabled Catlett to move to Mexico City in 1946, where she joined the Taller de Gráfica Popular, an influential and political group of printmakers.
Catlett taught at the National School of Fine Arts in Mexico City from 1958 until her retirement in 1976, producing realistic and highly stylized two- and three-dimensional figures. Her subjects ranged from tender maternal images to confrontational symbols of the Black Power movement, to portraits of Martin Luther King Jr. and the writer Phyllis Wheatley. Catlett died in 2012. A new residence hall constructed on the UI campus was named in her honor in 2017.
Jean Y. Jew: Professor of Anatomy and "Iowa's Anita Hill"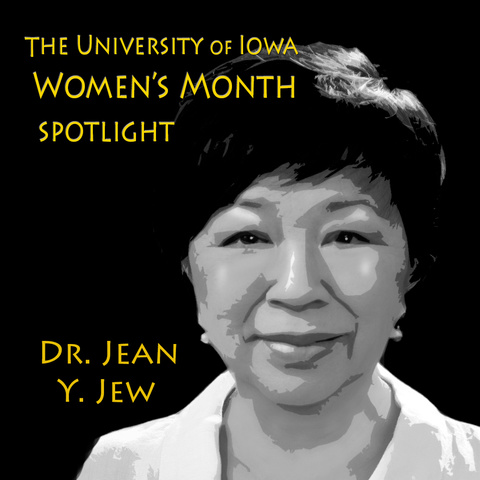 Born in Greenwood, Mississippi on October 7, 1948, Dr. Jean Jew obtained her Bachelors of Science in Biology from Newcomb College at Tulane University and earned her M.D. from the Tulane University School of Medicine. Dr. Jew moved to Iowa City to serve as a post-graduate associate when she was 24 years old in the College of Medicine at the University of Iowa, later becoming a tenured professor. During her tenure in the University of Iowa's College of Medicine, she carried out research focusing on the brain and autonomic nervous system. She taught human anatomy, neuroscience, and neurology to medical, physical therapy, dental, graduate and other health professional students and medical residents. She also chaired and served on numerous College, University and national committees related to education, research, administration, diversity and faculty governance.
In addition to her accomplishments as a professor and researcher, Dr. Jean Jew set a precedent for girls and women in the state of Iowa to obtain fair treatment and to defend themselves against sexual and racial harassment. After a decade-long legal battle in the Federal court system against the University of Iowa and the Board of Regents starting in the 1980s, Dr. Jew faced great personal and professional consequences. But in the face of adversity, she did not give up until she won. This federal case marked a major victory not only for Dr. Jew, but for other women throughout Iowa and the United States at a time when workplace harassment was not only commonplace and accepted, but the laws on sexual harassment were virtually unwritten.
At the same time that she was enduring ongoing harassment and the subsequent legal battle, Dr. Jew also carried out extensive research, taught classes, and served as a leader for gender equity. She was a founding member of the Iowa Women's Foundation (where she remains an active member), and she served on numerous committees that provided service to both the University and women everywhere. Her tireless work and many achievements were recognized in 1992, when the Council on the Status of Women at the University of Iowa and the Women's Resource and Action Center created the Jean Y. Jew Human Rights Award to honor those who commit themselves to the selfless work that Dr. Jew herself has. Dr. Jew retired from the University of Iowa in 2010 and is now an Emeritus Professor at the University.
Christine Grant: Women's Sports Pioneer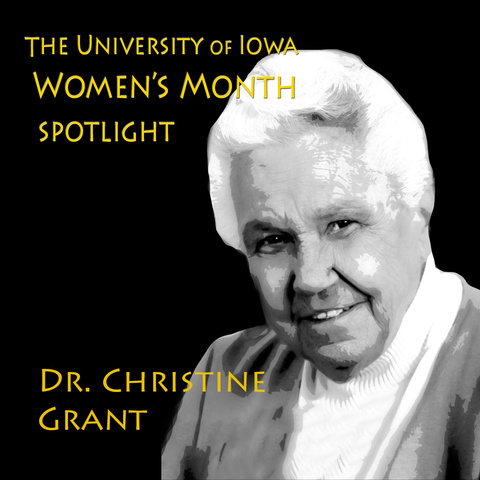 Dr. Christine Grant is a former athlete and athletic director at The University of Iowa. She was inducted into the University of Iowa Athletics Hall of Fame in 2006 and the Women's Basketball Hall of Fame in 2017. She is a pioneer in the field of women's sports, providing critical leadership during the era in which women athletes fought for recognition and equity in educational institutes, leading the Association for Intercollegiate Athletics for Women during that critical time, including testifying before Congress on Title IX several times, as well as holding several positions with the National Association of Collegiate Women Athletics Administrators, including the presidency from 1987-89. Grant has spoken and published widely and has held numerous leadership positions as an advocate of gender equity in sports. She served as the president of the Association for Intercollegiate Athletics for Women from 1980 to 1981. She received numerous awards and honors, including the prestigious Billie Jean King Award presented by the Women's Sports Foundation, two honorary doctorates, and induction into the University of Iowa Athletics Hall of Fame and the Iowa Women's Hall of Fame and is a recipient of the UI Jean Y. Jew Women's Rights Award, the NCAA's Gerald R. Ford Award, and has been named one of the 100 Most Influential Sports Educators in America by the Institute of International Sport. She retired as Women's Athletic Director at The University of Iowa in 2000 but has continued her activism on behalf of equity for women athletes. The University of Iowa named its Field Hockey facility in her honor in 1991. In 2019 Christine Grant Elementary School in North Liberty was named in her honor.
Events
2021 Womxn's Summit
The Womxn's Summit is planned and organized by students and staff at The University of Iowa Multicultural and International Student Support and Engagement (MISSE).
Here are the dates for this year's Womxn's Summit Programming:
Saturday, March 13th **WRAC's Womxn of Colour Network will be hosting two panel this day, at 10:30 AM and 3:30 PM
Saturday and Sunday, March 20th and 21st
Saturday, March 27th

To learn more about this year's Womxn's Summit and register for this year's events visit their webpage: https://multicultural.uiowa.edu/celebrations/womxns-summit/
Tippie Women's Summit
Various events and times, March 4, 11, 18, 24, and 31. The Tippie Women Summit has shifted to a virtual format with a series of program. All programs are free and open to the public. Please share information on these events with any faculty, staff, students, and community members that might be interested. Full listing of programs here: tippie.uiowa.edu/tippie-women-summit-webinar-series.
Women in Business (WIB) March Fundraiser
Tippie's WIB is hosting a fundraiser the week of March 7 to thank the women who have played a role in each of their member's lives; women who encouraged them to dream big and then guided them in their journey. Donations can be mailed to the IWF office or made online: iawf.org/donate-now (noting "WIB Fundraiser").
Womxn of Colour Network Faculty, Staff and Graduate Student Virtual Lunch Meet-Up
All Womxn of color faculty, staff, and graduate students at the University of Iowa are all welcome to this casual virtual social over the lunch hour. This is a space for WOCN to be in community with other professional womxn of color. We will also be doing a giveaway at this event!
When: Wednesday, March 24th
Where: Zoom Link to attend
Time: 12-1PM CST
Queen's Quiz Night
Join us WRAC Volunteers on Friday, March 26th at 6PM CST for a virtual Trivia night celebrating the end of Women's History Month!
Compete for your chance to win some amazing prizes and celebrate the accomplishments of many amazing women throughout history.
Visit the link to register for the event!
Don't miss out! Prizes include $100, $75 and $50 gift cards to Downtown Iowa City shops and restaurants
The Body is Not an Apology: Radical Self-Love as Transformative Action feat. Sonya Renee Taylor
The Women's Resource and Action Center is excited to partner with women's centers across the nation to bring you, "The Body is Not an Apology: Radical Self-Love as Transformative Action" featuring the incredible Sonya Renee Taylor.
Join us virtually on Tuesday, March 30th at 6PM CST on Zoom as Sonya shares her insights on how radical self-love leads to liberation. Register for this event today!
Celebration of Excellence and Achievement Among Women
Finally, the annual celebration of the many outstanding contributions of women at the University of Iowa will be held virtually on Wednesday, April 7. This year's award winners are being selected now and more information will be released shortly: celebrationofexcellence.sites.uiowa.edu.